Located at the foot of Mt. Tamalpais in Marin County, Mill Valley is an idyllic town in a woodsy setting that boasts redwood-lined streets and postcard-ready Californian landscapes. But don't let the bucolic surroundings fool you, Mill Valley is an active city with a vibrant downtown, echoing the vibrancy of the San Francisco Bay Area. The Mill Valley real estate market has been hot for many years, and the median list price for Mill Valley homes for sale has recently reached approximately $1.5 million.


If you're in the area as a tourist or to explore Marin County real estate for sale, check out the following cafés for great food and a chance to learn about the Mill Valley community.
Le Marais Bakery
Le Marais Bakery
is the product of Patrick Ascaso's dream to recreate the bakeries from his childhood in France. As such, he uses exclusively organic and local ingredients for his bakery and bistro. The croissant fillings change to reflect the season and local produce. You can even watch them make the croissants at their Lower Polk/Tendernob location.
Le Marais provides pickup and delivery, corporate gifts, holiday items, and private events along with their regular bakery and bistro. The Bakery Box of 12 pastries is a great grab-and-go option if you're in town looking at Mill Valley real estate. Or you can stay and try the Niçoise salad with wild tuna, tomatoes, egg, potatoes, and green olives or the prime sirloin with horseradish crème sauce.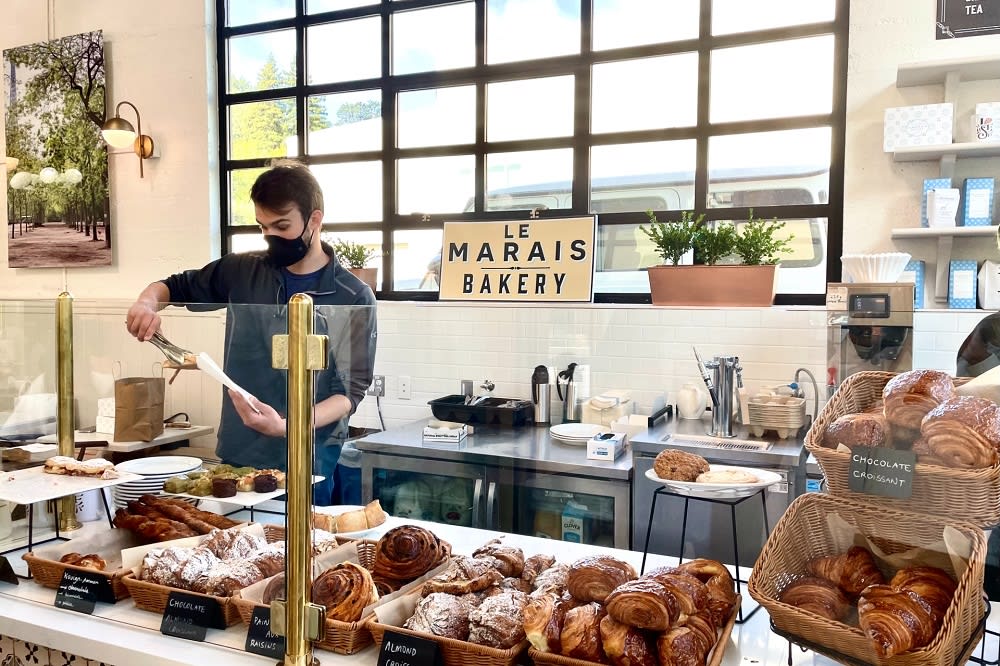 Shoreline Coffee Shop
With the charming appeal of a midcentury cafe,
Shoreline Coffee Shop
is a one-of-a-kind Mill Valley tradition. Indulge in French press coffee and vibrant, fresh dishes in this unassuming locale. Whether you want something savory like Tennessee Valley toast, breakfast salad, and Machaca hash or are craving something sweet like a cinnamon roll or stuffed brioche French toast, you'll likely find it on their menu of California-inspired fares. Come early! Shoreline Coffee Shop is open daily from 7:30 AM to 2:30 PM, and you won't want to miss this.
Flour Craft Bakery & Café
If you are craving some gluten-free baked items during your search for Mill Valley houses for sale,
Flour Craft Bakery & Café
is the place for you. The café was created by Heather Hardcastle, who utilized her training from The Culinary Institute of America to create a fabulous line of pastries with textures and flavors all their own.
Hardcastle handcrafts custom layer cakes, cookies, and morning pastries. She also makes a large assortment of gluten-free bread, which is used in her café and available for purchase by the loaf. Café options include a selection of avocado toast with different toppings, salads, and open-face sandwiches. Try the Golden Gate Tartine with smoked trout, roasted peppers, cashew cream, shaved vegetables, avocado, and microgreens.
Equator Coffee
Enjoy world-class coffee curated by Tyler Florence and other Michelin chefs at
Equator Coffee
in the heart of downtown Mill Valley. Each of their four chefs have created a unique blend, such as Thomas Keller's "The French Laundry Blend," with notes of mixed berries, cherry, and dark chocolate. Chef Tyler Florence's "Wolf It Down Blend" has notes of sandalwood, milk chocolate, and dried apricot. With many fantastic choices, you'll be sure to leave Equator Coffee with a bag of your choice of delicious beans. When you do, a portion goes toward charity and back into the community. This reflects the values of Equator Coffee, centered around social responsibility. They make sure their coffee is sourced in a way that makes life better, and they focus on sustainable practices.
Mill Valley Depot Café and Bookstore
Grab a book and a bite at the
Mill Valley Depot Café and Bookstore
. It's a great spot to unwind after looking at Mill Valley homes for sale. They serve breakfast, lunch, and dinner. Breakfast options range from simple organic yogurt with granola and fruit to an omelet with bell peppers, Point Reyes Tam, and Serrano ham.
Lunch options include salads like the Goddess Salad and sandwiches, including a Muffuletta Sandwich. In the evening, you can stop by for a Giant Pretzel snack and a beer or stay for the house pizza and a glass of wine. They also offer a children's menu and a children's play area in the bookstore.
Café Del Soul
If you want to refuel after touring Mill Valley homes for sale,
Café Del Soul
is a remarkable little café where every to-go box receives a personal, handwritten "made with love" note. All to-go containers are biodegradable, and they use organic ingredients. Café Del Soul tries to keep prices as accessible as possible so that everyone can enjoy fresh, homemade food. Their dishes are vegetarian, with options to add a protein of your choice. Their nachos, a popular choice, are made with gluten-free chips. They have rice dishes, quinoa bowls, and quesadillas that are great for a snack or a light lunch. Salads, wraps, and a children's menu are also available.
Joe's Taco Lounge
Joe's Taco Lounge
was established in 1992 as an homage to the streetcar vendors of Puerto Vallarta and San Miguel de Allende. The terracotta floors, brick walls, and exposed beam ceilings create a cozy and comfortable ambiance. Joe's is a great place to take a break from looking at Mill Valley real estate and grab a spectacular bite. They serve breakfast, lunch, and dinner. Try the Oaxacan Hot Chocolate with a croissant or the Mexican Iced Latte with a breakfast burrito.
Their lunch and dinner menu features traditional options as well as their specialty dishes like the Camarones a la Diabla — tiger prawns sautéed with ranchero sauce — or the Pacific Snapper Sauté with garlic butter and spices. They also offer a diverse children's menu.
Mill Valley Coffee Shop
The
Mill Valley Coffee Shop
is a staple for comfort food. They've been part of the Mill Valley community for 30 years and are a classic example of an old-fashioned café. Mill Valley Coffee Shop offers classic favorites like steak and eggs, omelets, and biscuits and gravy. Locals love the Phil's Special Benedict with poached eggs, grilled tomatoes, ham, and spinach on a muffin topped with hollandaise.
They offer soups, salad, and a solid burger and sandwich menu for lunch—including a garden burger, Reuben, and a vegetarian sandwich. Whatever you order, make sure you save room for a classic root beer float—it's the perfect treat after looking at Mill Valley homes for sale.
Hungry for Mill Valley luxury real estate?
The realtors at
Kevin Kearney Real Estate Group
are happy to answer any of your questions about Mill Valley and the surrounding area. They're relocation experts who have been helping families find the home that matches their lifestyle and meets their needs. They have over 20 years of experience in buying and selling luxury homes, condos, oceanfront property, and investment real estate. Wherever you are in the process of researching Marin County luxury real estate,
contact Kevin Kearney Real Estate Group today
.